A monthly trip back in time to Walt Disney World - From pre-opening to 25 years ago; your four retro hosts discuss now closed, but not forgotten attractions, designs, architecture and more! Come experience the Vacation Kingdom of the World...the way it was...and the way it is in your memories!
Episodes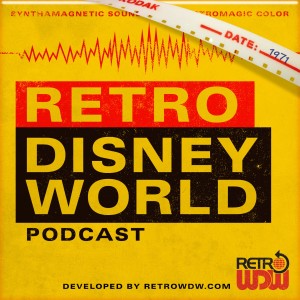 Monday Dec 16, 2019
Monday Dec 16, 2019
Welcome to Episode 54 of the RetroWDW Podcast: "A Very '90s Christmas" – We appreciate your support and hope you have been enjoying each and every episode. Be sure to check out some of our previous shows!
Corrections & Comments
Carrie wrote us regarding a jade carving in the China pavilion, connecting back to when we discussed the overly expensive items throughout EPCOT Center. Please, we are looking for any information regarding the rare, expensive and unique items sprinkled throughout World Showcase.  Thanks Carrie!
Listener Mail
The mail bag is full and we love that! Every month, you can possibly get on the show, so be sure to write us at podcast@retrowdw.com.
Richard wrote in regarding the STOL Port; he wants to run there during some half marathon training. We give him some top tips regarding seeing the airport and also running around WDW.
Bryan is up next, asking us about the early days of calling Walt Disney World. When did hold music first appear? Was it an 'opening day' thing for Disney?  We get into some old hold music history to help you out.
Jason Burley wrote in asking about our pin collections and other items – check out RetroMagic.org – this will allow you to make a donation to the Lake Buena Vista Historical Society and get some neat gifts.  Jason also asks about an image in the book 'Walt Disney's EPCOT Center' – there is a picture in there that says "BOOVI IS A MAMAS BOY".  We dig into this and need your help to solve a mystery… 
Finally, Laney gave us a call on the Retro Line, asking all about the infamous birth happening at the Magic Kingdom. How has all the details on this one.
Questions, Comments & Concerns
We love feedback and hearing your memories!
Drop us a line at podcast@retrowdw.com or call us and leave a voice mail at 978-71-RETRO. You can also find us on Facebook, Twitter and Instagram.
Audio Rewind
Our audio rewind this month turned out to be Sorcery in the Sky – Thank you for all the guesses and emails.
We have a winner! Congratulations Jessie Edwards who wins a great selection of prizes.
If you think you know the answer to this month's audio rewind, email us! contest@retrowdw.com – This month, the winner will be getting some of our holiday ornaments! – All entries due 1/10/2020 and a random winner will be selected.
Main Topic
Christmas and the holiday season is upon us, which means more specials! We are getting into three different shows; The Walt Disney World Christmas Very Merry Parade from 1993, A Musical Christmas at WDW from 1993 and finally the 1995 Very Merry Christmas Parade. The specials and shows always seem to be plentiful around the holidays, so we get to discuss them in great detail.  If you would like to follow along as we discuss so you have a visual, please utilize our latest VHS transfers:
RetroMagic Gift Set
If you attended RetroMagic, you were given a set of three Christmas Ornaments. The Journey into Imagination ride vehicle, The RetroMagic Logo/Float and The Mouse – Walt's original plane. 
We have extras and we are giving them away with any donation of $50. To donate to the Lake Buena Vista Historical Society, please visit www.RetroMagic.org – there are many different donation options and gifts. We thank you for your support and hope you enjoy this unique gift set for the upcoming holiday season.
2020: The Year of Film
We have quite a year coming up and we want you to be a part of it, every step of the way. The 'How Bowers Archive' has been digitized, we have tons of restored film movies and so much more, just waiting to get posted. To make sure you are the first to know when items are released, subscribe to us on YouTube. Be sure to click the notification bell too, that way you are alerted when we post.  Finally, be sure to check out Vimeo if that is your thing, as we will post there as well.
RetroWDW Merchandise
Be sure to get your shirt, iPhone case, tote bag, pillow or coffee mug today: www.retrowdw.com/supportus