A monthly trip back in time to Walt Disney World - From pre-opening to 25 years ago; your four retro hosts discuss now closed, but not forgotten attractions, designs, architecture and more! Come experience the Vacation Kingdom of the World...the way it was...and the way it is in your memories!
Episodes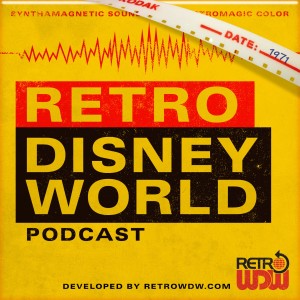 Wednesday Oct 17, 2018
Wednesday Oct 17, 2018
Welcome to Episode 43.5! We are here tonight to chat with Chris Debiec, who plays a key role in the early days of Disney-MGM Studios.  Todd, Brian & How are in attendance tonight and we start you off with some information about the upcoming Lake & Lagoon tour.  Some information is also revealed about the gift for this upcoming event and also some key information if you would like to meet any of us. 
For more information, please visit here - Click Here
At the moment, Chris is working on some top secret projects, but we get him on the phone to talk about his time at Disney. He started at the studios in the late 80s, as a production assistant. Like many people, Chris started in the Disney College Program, being one of the last classes at the Snow White Village.  We also learn that Chris worked at Captain Cook's at the Polynesian.
Throughout this episode, Chris has so many amazing stories. We learn all about stealing ice in World Showcase, conversations with Jim Washburn and The Muppets. The entire conversation is filled with amazing, never heard stories related to the early days of Disney-MGM. As a real, working studio, you get real Hollywood stories - which is amazing. The stories almost don't feel like a theme park and more from the backstage area of a movie set, which totally makes sense.

Huge thanks to Chris for spending time with us and answering our questions. We really enjoyed talking with him and found him to be full of amazing stories.