A monthly trip back in time to Walt Disney World - From pre-opening to 25 years ago; your four retro hosts discuss now closed, but not forgotten attractions, designs, architecture and more! Come experience the Vacation Kingdom of the World...the way it was...and the way it is in your memories!
Episodes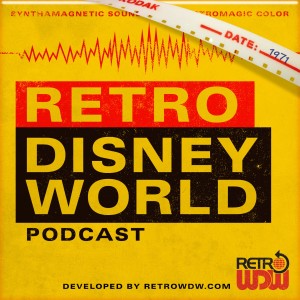 Friday May 05, 2017
Friday May 05, 2017
Welcome to Episode 29 of the Retro Disney World Podcast: "Listen To The Land" - We appreciate your support and hope you have been enjoying each and every episode. Be sure to check out some of our previous shows.
Corrections & Listener Mail - Todd started us with some discussion on River Country being built on some granite.... We learn some more about listener theories on the water slides at River Country and what they were made of. Tom gives us some insight on the mysterious pyramids on the Spaceship Earth ride vehicles. Brian gives us some more information on the famous Mickey on Spaceship Earth commercial shoot. Finally, a listener wrote in to discuss some of the underwater effects on 20,000 Leagues.
The mailbag is opened up for this month! Lots of great stuff! We learn about the "River Country" song at the end of our last podcast and also some other WDW music from the 70s and 80s. Our resident EPCOT Center experts tell us all about meeting Figment & The Dreamfinder; so cool! Remember the old Skyway at The Magic Kingdom? We tell you about the old stations and where you can look for them now. Have you ever been curious about retro wait times? We discuss how long it took to get on famous attractions back in the early years of Disney World. Reese wrote us this month and asked about the how The Land changed... You can learn all about this in our main topic. For questions, comments and concerns, please write us - podcast@retrowdw.com
Audio Rewind - Last month, the audio rewind song was super hard! We go through some of the guesses, but if you guessed the strollers at The Magic Kingdom going over the bridge, you were correct! The winner is Ali Jurgens, winning a set of RetroWDW Pins and some other mystery pieces. Great job Ali! If you think you know the answer to this months audio rewind puzzler, email us! podcast@retrowdw.com - This month the winner will get a pack of RetroWDW Pins and a Nunis Wave Machine Shirt!  All entries due 5/22/2017 and a random winner will be selected. Even if you don't win, you will gain an entry into the NEW SUMMER PRIZE POT!
Prize Pot - This year, we are going to do a new and exciting prize giveaway. The RetroWDW Podcast will have two prize pots this year; one summer, one winter.  The first prize pot item is the Walt Disney at the World's Fair Four CD Set, followed by a NEW Official Disneyland/WDW LP Record from 1988, A Surprise For Mickey Mouse Little Golden Book from 1971 and new this month, All Aboard: The Wonderful World of Walt Disney's Trains.  All entries for the audio rewind go to winning the Summer Prize Pot.
Main Topic - This month, we discuss the EPCOT Center attraction, The Land. Brian takes us through the history of this original attraction and how it came to be. The original sponsor was a logging comapny called Georgia Pacific. Tony Baxter was originally in charge of this, before the theme was changed. We look at the ride, different areas and even Symbiosis. Kraft took over as sponsor, Claude & Rolly took over and gained this new sponsor. The attraction has changed over the years and even had a live narrator up until a few years back. Follow us back through the history, wall carpet and vintage music as we take you back to the early years of The Land. Enjoy!
RetroWDW Merchandise - This month, we are bringing you a new Symbiosis shirt with original font! A second shirt is coming too, which is a tribute to Horizons, featuring the Pegasus logo. Stickers are now available on our store too, along with our "Now Is The Best Time" Clock. How just keeps putting out these one of a kind designs that you cannot find anywhere else. Give How some feedback on your favorite design by tweeting at us, showing off your purchases. As always, we appreciate your support and love seeing you out there sporting your RetroWDW gear! Be sure to get your shirt, iPhone case, tote bag, pillow or coffee mug- www.retrodisneyworld.com/supportus
Listener Memories - Keep the calls coming, sharing your memories and giving us feedback. If you would like to call and leave us a message, please dial 978-71-RETRO. Keep the calls coming!
- Join us next month for a look at the old television specials about WDW -
*Event Alert: Plan on joining us for Epcot35 in late October...More details to follow soon!
Tweet at us, send us a Facebook post or message, tag us on Instagram or email us your thoughts..We hope you have enjoyed this episode! If you have any questions, suggestions or find errors please email us podcast@retrodisneyworld.com