A monthly trip back in time to Walt Disney World - From pre-opening to 25 years ago; your four retro hosts discuss now closed, but not forgotten attractions, designs, architecture and more! Come experience the Vacation Kingdom of the World...the way it was...and the way it is in your memories!
Episodes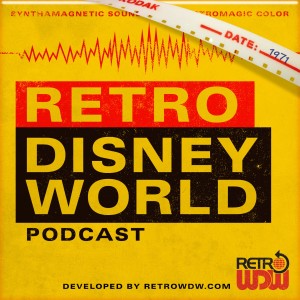 Sunday Apr 02, 2017
Sunday Apr 02, 2017
Welcome to Episode 28 of the Retro Disney World Podcast: "Whoop-N-Holler" - We appreciate your support and hope you have been enjoying each and every episode. Be sure to check out some of our previous shows.
Corrections & Listener Mail - Todd started us with some corrections on the Spaceship Earth episode. First, the music you hear is not called "Space", instead it is an instrumental section of Tomorrow's Child. Another listener mentioned Michelangelo and which hand he is, How chimes in to tell us he is left handed...The triangle boxes between the SSE cars were discussed during the episode. Former cast members informed us they did not know, so we discuss some of the more popular theories. This is going to start a new series on the show called - "How Did It Work". 
The mailbag this month was crazy full. Brian goes into great detail about how Mickey stood on top of Spaceship Earth, involving a rope and high winds. Next up, we discuss an email we received about the lack of children in the parks when you view some of our older films. Finally, @FancyRobotCouch asks us why Mission To Mars closed... We go into some various reasons and also discuss an incredibly rare piece of film we just acquired. For questions, comments and concerns, please write us - podcast@retrowdw.com
Audio Rewind - Last month, the audio rewind song was Impressions de France: Opening Theme, if you guessed that, you were correct! The winner is Stephanie Haddon, winning a set of RetroWDW Pins. Brian is also adding a souvenir photo set from the 1964-65 Worlds Fair; this was given out at the 2014 Destination D. Great job Stephanie! If you think you know the answer to this months audio rewind puzzler, email us! podcast@retrowdw.com - This month the winner will get a pack of RetroWDW Pins and random brochures!  All entries due 4/30/2017 and a random winner will be selected. Even if you don't win, you will gain an entry into the NEW SUMMER PRIZE POT!
Prize Pot - This year, we are going to do a new and exciting prize giveaway. The RetroWDW Podcast will have two prize pots this year; one summer, one winter.  The first prize pot item is the Walt Disney at the World's Fair Four CD Set, followed by a NEW Official Disneyland/WDW LP Record from 1988 and new this month is A Surprise For Mickey Mouse Little Golden Book from 1971.  All entries for the audio rewind go to winning the Summer Prize Pot.
Main Topic - This month, we discuss the old swimmin' hole: River Country. The original themed water park from 1976 is discussed in detail, taking you back with Birnbaum quotes and original guest testimony. If you didn't get to visit this 5 acre park, you are in luck because we walk through each experience and attraction. We even managed to lock down some original cast members who worked the park and their interviews are included in this episode. Take a trip back with us and relive River Country in the glory days. After you finish the episode, take a trip over to our YouTube Channel and watch one of our restored movies from when the park was fully operational.  Enjoy!
RetroWDW Merchandise - This month, we are bringing you two River Country designs in honor of our Podcast. How just keeps putting out these one of a kind designs that you cannot find anywhere else. Give How some feedback on your favorite design by tweeting at us, showing off your purchases. As always, we appreciate your support and love seeing you out there sporting your RetroWDW gear! Be sure to get your shirt, iPhone case, tote bag, pillow or coffee mug- www.retrodisneyworld.com/supportus
Listener Memories - Keep the calls coming, sharing your memories and giving us feedback. If you would like to call and leave us a message, please dial 978-71-RETRO. Keep the calls coming!
- Join us next month for a trip on Listen To The Land -
*Event Alert: Plan on joining us, later this year for an upcoming and amazing fan event! Details to come....*
Tweet at us, send us a Facebook post or message, tag us on Instagram or email us your thoughts..We hope you have enjoyed this episode! If you have any questions, suggestions or find errors please email us podcast@retrodisneyworld.com
Podbean: podcast.retrodisneyworld.com
iTunes: itunes.apple.com/us/podcast/retro-disney-world-podcast/id935548315
Stitcher: www.stitcher.com/podcast/retrodisneyworld/retro-disney-world-podcast