A monthly trip back in time to Walt Disney World - From pre-opening to 25 years ago; your four retro hosts discuss now closed, but not forgotten attractions, designs, architecture and more! Come experience the Vacation Kingdom of the World...the way it was...and the way it is in your memories!
Episodes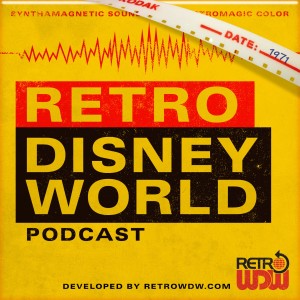 Wednesday Jan 25, 2017
Wednesday Jan 25, 2017
Welcome to Episode 26 of the Retro Disney World Podcast: "Tiny Bubbles" - We appreciate your support and hope you have been enjoying each and every episode. Be sure to check out some of our previous shows.
Listener Mail - First off, we have a real letter! Rob wrote us discussing history on the Golf Resort and some new facts we didn't cover. Next, a listener wrote in asking about updates to the utilidors. Cameron wrote us about the corrugated wall and how he found it. Joey was next, asking about our opening title music. We give you the history and also details on each section of the song. For questions, comments and concerns, please write us - podcast@retrowdw.com
Audio Rewind - We are back with a new audio puzzler. If you think you know the answer, email us! podcast@retrowdw.com - This month the winner will get a pack of RetroWDW Pins!  All entries due 2/12/2017 and a winner will be selected. Even if you don't win, you will gain an entry into the NEW PRIZE POT! 
Prize Pot - This year, we are going to do a new and exciting prize giveaway. The RetroWDW Podcast will have two prize pots this year; one summer, one winter.  The first prize pot item is the Walt Disney at the World's Fair CD Set. This is an amazing start to the Summer Prize Pot, so be sure to get your entries in.
Main Topic - This month we take you back to the Magic Kingdom and onto the classic ride, 20,000 Leagues Under The Sea. How & Todd take us back to the 1950s, giving us a bit of history to begin. As we continue, you learn all about the subs, the ride, sounds and everything down to the smallest detail. This is one attraction where nearly all of us have some experience actually riding and loving. Gone but not forgotten, this ride never made it to "Classic Status" before it was too late. Our own How Bowers is one of the few people on earth to take the final ride around on the sub... Hope you enjoy going back with us to Fantasyland, before it was new and when you could ride with Captain Nemo.
RetroWDW
Merchandise - How has given us an amazing design based on the Home of Future Living. This one is absolutely amazing and you can get it in shirt form and many other products. Give How some feedback on your favorite design by tweeting at us, showing your purchases. As always, we appreciate your support and love seeing you out there sporting your RetroWDW gear! Be sure to get your shirt, iPhone case, tote bag, pillow or coffee mug- www.retrodisneyworld.com/supportus
Film Restoration - Todd gives us all an update on our film projects coming soon.... Lots of goodies are being processed as we speak, so if you are one of our film buffs, it is time to get excited.....
Listener Memories - Keep the calls coming, sharing your memories and giving us feedback. If you would like to call and leave us a message, please dial 978-71-RETRO. Keep the calls coming!
-Join us next month for a grand and miraculous journey, as we take you to EPCOT Center and into Spaceship Earth-
Tweet at us, send us a Facebook post or message, tag us on Instagram or email us your thoughts..We hope you have enjoyed this episode! If you have any questions, suggestions or find errors please email us podcast@retrodisneyworld.com
Podbean: podcast.retrodisneyworld.com
iTunes: itunes.apple.com/us/podcast/retro-disney-world-podcast/id935548315
Stitcher: www.stitcher.com/podcast/retrodisneyworld/retro-disney-world-podcast