A monthly trip back in time to Walt Disney World - From pre-opening to 25 years ago; your four retro hosts discuss now closed, but not forgotten attractions, designs, architecture and more! Come experience the Vacation Kingdom of the World...the way it was...and the way it is in your memories!
Episodes
Wednesday Dec 14, 2016
Wednesday Dec 14, 2016
Welcome to Episode 25 of the Retro Disney World Podcast: "Anniversary Special" - We appreciate your support and hope you have been enjoying each and every episode. Be sure to check out some of our previous shows.
Comments & Corrections- To start this episode, we discuss things that scare us at WDW. Mike wrote in and said he used to be scared of Tick-Tock Croc on Peter Pan's Flight. Kate was scared of Body Wars due to her fear of shrinkage. Hipster Mickey wrote in telling us about being scared during the Studio Backlot Tour. Next up, Brian recaps his visit to the old Golf Resort. Currently, known as Shades of Green, Brian was able to worm his way over there and see what still exists. BJ Major sent us an Epcot Film which was absolutely amazing.
Listener Mail - We had lots of great letters sent in this month. Bernie wrote us to discuss character meet & greets and how it has changed over the years. Brian remembers a paper mache Pete's Dragon and also a walk-around dog from the Shaggy DA. For questions, comments and concerns, please write us - podcast@retrowdw.com
The Orange Bird Film - One of our holy grail films was released a few weeks back and we discuss as a group. The Orange Bird is back in amazing color and he even does a dance for you. We talk about the different types of bird head and give our opinions on which is best. Hope you enjoy the film and check back for more soon...we have lots of rare films that will be released very soon.
Main Topic - This episode is all about anniversaries, including our own! How starts us off with year one then quickly moving into the five year anniversary and tencennial. The fifth is when things got serious; this includes waterski shows, Boardwalk & Baseball and many other amazing events.  Who out there still has their "I'm a Winner" Visor? The Earforce One was another 15th anniversary special item along with the famous ticket system, giving almost every person who entered a prize. This included the Chevrolet Cavalier(one per day), pins, stickers, park tickets and of course the visor. The 15th was absolutely epic!
Prize Pot - Our year end prize is huge! Included are: An Orange Bird Yo-Yo from January, a brochure from The World of Motion given away in February, the March prize is a Golf Resort Mickey head logo golf bag tag, an Epcot Center salt and pepper shaker set, a Disney Glass Candy Dish, Tomorrowland Handbook, 1984 Disney News Magazine, The Walt Disney World Explorer CD Rom, expired Discovery Island Tickets, a Frontierland Viewmaster Slide, the WDW Tencenial Coin, a WDW Pocket Protector, and finally the RetroWDW Pin Collection.
Congratulations go out to Wes Hansen! He was randomly selected from over 600 entries to receive this years big prize! Congratulations Wes!!
More Main Topic - How takes us back to the 20th anniversary! The infamous Castle Balloon was featured during this anniversary. How also got to see Michael Eisner, again... We also hear about 20 things that debuted for the 20th. Great walk down memory lane for this crazy annivesary. Brian discusses the Florida Legislatures Weekend and his amazing intvitation of the fold out Empress Lily. Brian takes us into the 25th, a topic that he has a huge amount of information on. This includes the two TV Specials, which includes Drew Carey eating a turkey leg. The unbelievable Castle Cake is discussed in great detail. So much mid/late 90s goodness with tons of highlights. If you still have your "Guest of Honor" pin, show your 25th anniversary pride - these things sure do bring back memories. Brian has a favorite shirt from this anniversary, showcasing the two castles. The how-to on this whole castle is super interesting. To round out the 25th, we bring on our buddy Matt to discuss to the road show, The Maigical Memories Tour.
RetroWDW Merchandise - Fantasy Pins are here! We have a great set of custom pins for sale now. Be sure to get your pins and add them to your collection as these are limited time and won't be around forever. Be sure to get your shirt, iPhone case, tote bag, pillow or coffee mug- www.retrodisneyworld.com/support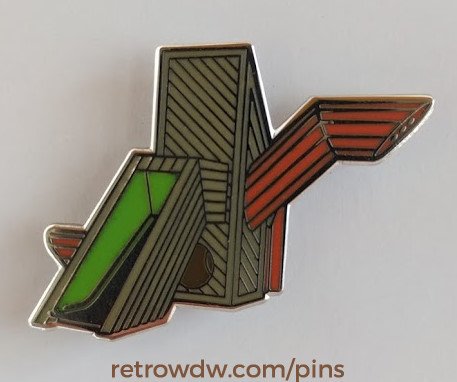 us
Listener Memories - Keep the calls coming, sharing your memories and giving us feedback. If you would like to call and leave us a message, please dial 978-71-RETRO. Keep the calls coming! 
Check back with us in January for  Episode 26 where we take you back to a time when you could journey under the sea...
Tweet at us, send us a Facebook post or message, tag us on Instagram or email us your thoughts..We hope you have enjoyed this episode! If you have any questions, suggestions or find errors please email us podcast@retrodisneyworld.com
Podbean: podcast.retrodisneyworld.com
iTunes: itunes.apple.com/us/podcast/retro-disney-world-podcast/id935548315
Stitcher: www.stitcher.com/podcast/retrodisneyworld/retro-disney-world-podcast